COMPACT 355 L is a worksite machine for pre-insulated pipes in PE, HDPE, PP, from Ø 4" IPS ÷ 14" IPS (125 ÷ 355 mm). Its small dimensions allow it to operate easily inside a dig, plus:
- the machine has a 2-clamp machine body, to lock the outer coating of the pre-insulated pipe
- its heating plate features the well known Digital Dragon 2.0 high precision thermoregulator
- the electrohydraulic gearcase comes inside a protective box
- the facer has a safety microswitch
STANDARD COMPOSITION
Machine body, electrohydraulic gearcase, facer, heating plate with high precision thermoregulator, milling cutter/heating plate support, tool kit.
ON REQUEST (ACCESSORIES)
- Clamps' inserts from
Ø 4" IPS to 12" IPS with 250 mm Master adapters
Ø 4" DIPS to 12" DIPS with 250 mm Master adapters
Ø 125 to 315 mm with 250 mm Master adapters
- Tool for flange necks.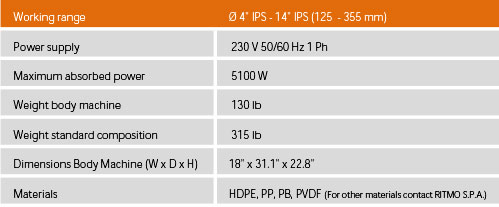 Compact 355 L