DELTA 1000 TRAILER is a self-aligning fusion machine, suitable for welding thermoplastic pipes for the transport of water, gas and other fluids under pressure, up to Ø 36" IPS/DIPS

DELTA 1000 TRAILER allows to easily weld fittings like elbows, tees, Y-branches and stub flanges.

Standard machine features:
- Machine body mounted on a 4 wheeled chassis, easily removable for working in tight spaces
- Steel hydraulic clamping with the fast-locking inserts, which allows to place and remove inserts in seconds
- Self detaching device: helps removing the heating plate during welding procedure
- 4 wheeled chassis with 2 steering wheels and a safety brake
- An on-board hydraulic electric facer that is equipped with a safety microswitch
- An on-board hydraulic heating plate Teflon-coated (PTFE) which comes with a high-temperature-proof bag,
- An EASY LIFE welding system: the operator to program and pilot all the welding cycle in an easy, fast and very intuitive way
- A control panel with a large graphic display which is also removable from the machine body to be able to weld from outside the ditch
- GPS traceability
- Data-logging system to store full welding data
- USB port
- PDF files.
- Store up to 4000 joint reports
- Two hydraulic lateral rollers
- Control panel for hydraulic movements.
ON REQUEST (ACCESSORIES)
- Clamps' inserts from Ø 14" IPS to 36" IPS; 14" DIPS to 36" DIPS; 335 to 900 mm
- Trolley
- Tool for flange necks
- Kit serial printer
- Kit for IN-DITCH use
- Kit hoist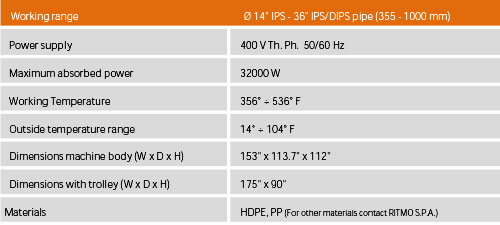 DELTA 1000 TRAILER