ECOFITTINGS 12
fitting fabrication machine is designed to produce Wyes, Tees and Crosses from HDPE, PP pipe in sizes from Ø 4" IPS – 12" IPS, and Elbows from Ø 4" IPS to 16" IPS. The machine can also fuse special and moulded fittings such as elbows, tees and stub and holder thanks to a different type of special jaws.
ECOFITTINGS 12 is available with the: electronic control process "Easy Life".
The Easy Life system allows a simple and quick selection of the pressure and time data through a digital control panel. The fusion process keys are designed for a friendly use. Main advantages of the Easy Life system are the repeatability of the fusion cycle and the reduction of human errors.
With the Easy Life system all the fusion cycle is electronic controlled and automated (except the bead time that is controlled by the operator by a visual control).

Composed of:
Hydraulic operated table machine
Automatic Fusion control Easy Life system
Heater with horizontal sliding system
Facer with built-in overload cut out and safety micro switch
Lateral support with inserts to maintain pipe segment perfectly aligned
Upper cylinder for welding extra thick pipes/ fittings whenever it is necessary to use higher pressures
Data - Logging incorporated
ON REQUEST (ACCESSORIES)
- Elbows jaws Ø 16" IPS
IPS inserts from Ø 4" to 14"
DIPS inserts from Ø 4" to 14"

- Tees / Crosses / Wyes jaws Ø 12" IPS
IPS inserts from Ø 4" to 10"
DIPS inserts from Ø 4" to 10"
- Stub and Holder
- PVC milling cutter Kit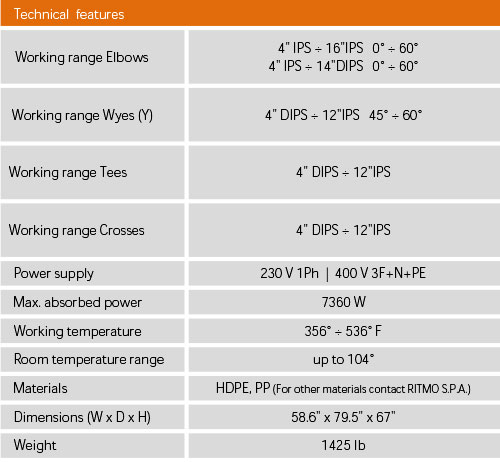 ECOFITTINGS 12