This workshop/construction site welding machine is suitable for the socket fusion of pipes and fittings up to an O. D. of 125 mm, in accordance with the standards in force.
The PRISMA 125 is composed of a machine body featuring a selector for the welding depths of the different diameters, four self-centering steel clamps for locking pipes and fittings (different brands), a self-centring socket welder with electronic temperature control, a device for the maximum heating depth, a sliding trolley, a tripod to support the pipe, a set of sockets and spigots for socket fusion from Ø 25 to Ø 125 mm with steel case.

The welding machine is available in two versions, depending on the type of sockets & spigots supplied: PRISMA 125 type A and PRISMA 125 type B.
STANDARD COMPOSITION
- Machine body complete with an electronic socket welder;
- Steel case complete with sockets and spigots from Ø 25 to Ø 125 mm and tool kit;
- Pipe support tripod;
- Sliding trolley.
RITMO also produces special sockets and spigots that are useful for the on-site repairs of pipes that have been accidentally perforated. They are called hole repairing sockets, available in three different types:
- Ø 7 mm hole repairing socket for Ø 7 mm holes;
- Ø 8 mm hole repairing socket for Ø 8 mm holes;
- Ø 11 mm conical hole repairing socket for Ø 11 mm holes.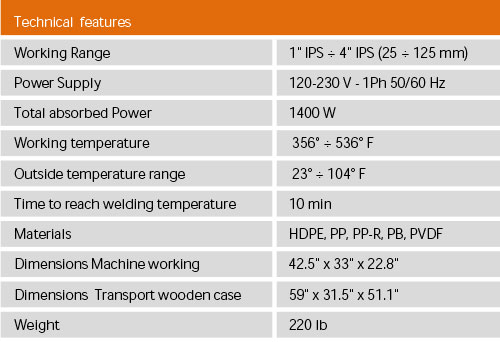 PRISMA 125