Welding machine PRISMA 125 LIGHT is a field machine for socket welding method, for pipe and fittings in Polyethylene (HDPE), Polypropylene (PP), Polyvinyl fluoride (PVDF) e Polybutylene (PB) for diameters included between 63 - 125 mm. Leading particulares are the restricted weight, minimum overall dimensions and versatility.
Featuring: a machine body, a self-centring clamp for locking the pipes, a self-centring clamp for locking the fittings, an extractable socket welder with an automatic electronic temperature, fitting holder and a special bench vice so the machine can be used on a work bench.
STANDARD COMPOSITION
- Welding machine Prisma 125 Light;
- Socket fusion plate R 125 Q TFE;
- Socket and spigot 63 ÷ 125 mm with steel case;
- Carrying box.
ON REQUEST
- Clamps for pipe Ø 50 ÷ 110 mm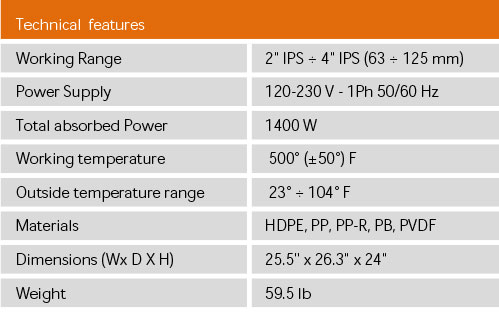 PRISMA 125 LIGHT