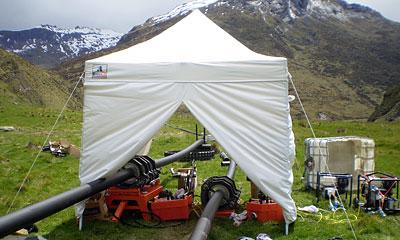 17.01.2012 -

The nature show


This "under costruction" is rather special: the jobsite has no access way. So at first all the equipments must be assembled in a base camp, and then carried at altitude with an helicopter.

The job is commited to the Poly Fusion Services Ltd enterprise, who has chosen for the butt fusion two DELTA DRAGON 315 B machines accessorized with a machine body trolley and a set of adapters, and one Elektra 800 for welding with electrofusion some saddles for vacuum breaker valves.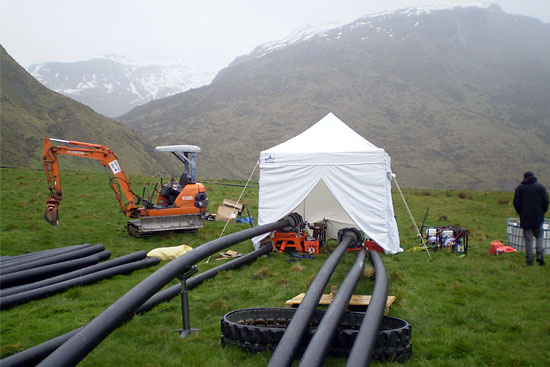 From the words of Andrew Spencer - Poly Fusion Services Ltd – we live again those moments.
"This jobsite is located in Southern New Zealand on Minaret Station. A high country where sheep and deers can freely farm between the shores of Lake Wanaka and the Southern Alpine mountain range: a wonderful landscape among the nature.
The project was to install a 450m long, 160mm PN16 SDR11 PE100 poly pipeline for a hydro power generation system for a remote eco tourism lodge. Theheight difference between the drawing zone and the generator was 160 meters.
As the jobsite was in a mountainous area, wind and rain needed to be kept out during the welding process with a tent, and extreme care needed to be taken loading the welders into and out of the helicopter so as not to damage the equipment or the helicopter. Notwithstanding this tough weather conditions the RITMO welding machines did their job at best!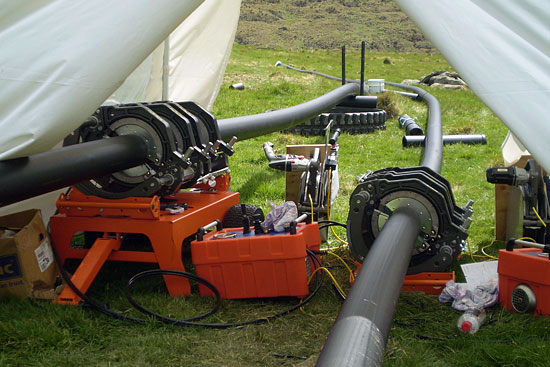 Because the intake of the system was 160m above the generator in a mountain stream and very steep, we had to butt weld the pipes into strings of 96m with stub flanges on the ends, and then lift each string into place using a helicopter…a dangerous and spectacular operation!
We started at the top and lifted each string with a helicopter and laid them down the side of the mountain, bolting each string together until we reached the generator shed at the bottom. Lifting the strings into place was a really good test of weld strength!
In this job site everyone did their best, with great commitment and coordination, it was a really exciting work!
The pictures above show the spectacular and unique experience of the job site. Now in the Wanaka Lake the tourists can live a fantastic holiday among the nature without renounce modern comfort.