R - SB 50 is a powerful extruder indispensable for jobs that require a high output of extruded material.

STARGUN R - SB 50 is suitable for joining linings and geo-textiles, sheets, thick pipes and for all those welds that are required to resist to continuous stress. During the welding phase the extruder is very smooth and handy.

Like the other models, R - SB 50 is equipped with: an extrusion output regulator, the safety system that allows the operator to work only after the right temperature has been reached, display for temperature setting and spot light LEDs to illuminate the welding area.

It is capable of up to 11Ibs/h of extruded material.

- Rod Ø 5/32" - 3/16"
- Backlight display
- Welding area spot light LEDs
- Output regulator (for back handle and Pistol grip)
- Temperature control safety system cold start control
- Built - in blower - Double T° controller for blower and extrusion chamber
- Rotating side - handle
- Replaceable 360° rotating teflon shoe

Supplied with:
welding shoes Neutral, Flat, 90° for inner angles; transport case and extruder support.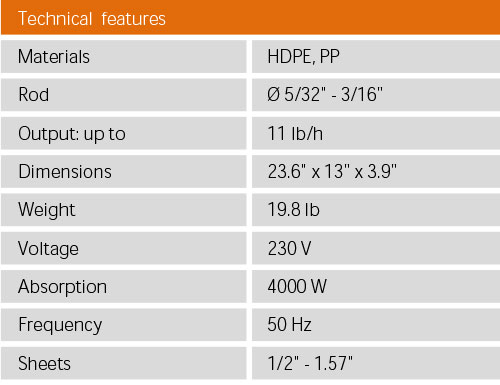 STARGUN R - SB 50