R - SB 40 is a powerful but compact extruder, available with several handle types to give the operator a more practical, efficient and versatile instrument.

STARGUN R - SB 40 is lighter if compared to our competitor's equivalent model; this characteristic makes of our extruder an indispensable and irreplaceable instrument when performing jobs in which high performances and handling are required.

It is equipped with a safety system that allows the operator to work only after the right temperature has been reached and spot light LEDs to illuminate the welding area.

R - SB 40 is capable of up to 8.82 Ib/h of extruded material.

- Rod Ø 1/8" - 5/32" - 3/16"
- Backlight display
- Welding - area spot light LEDs
- Output regulator (for back handle and Pistol grip)
- Temperature control safety system cold start control
- Built - in blower - Double T° controller for blower and extrusion chamber
- Rotary side - handle
- Replaceable 360° rotating teflon shoe

Supplied with:
welding shoes Neutral, Flat, 90° for inner angles; transport case and extruder support.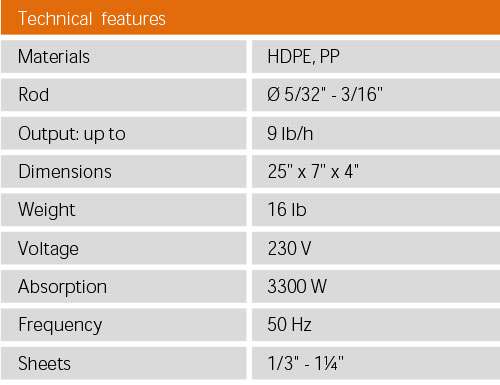 STARGUN R - SB 40