R - SB 30
is a compact and precise extruder which adds to the R - SB 20's characteristics a higher extrusion capacity: 7.06 Ib/h of extruded material.
R - SB 30 is equipped with an extrusion output regulator, a safety system that allows the operator to work only after the right temperature has been reached, display for temperature setting and spot light LEDs to illuminate the welding area.
- Rod Ø 1/8" - 5/32" - 3/16"
- Backlight display
- Welding - area spot light LEDs
- Output regulator
- Power regulation "motor stop" safety system
- Built - in blower
- For narrow spaces
- Double T° controller for blower / extrusion chamber
- Rotating side - handle
- Replaceable 360° rotating teflon shoe
Supplied with:
welding shoes Neutral, Flat, 90° for inner angles; transport case and extruder support.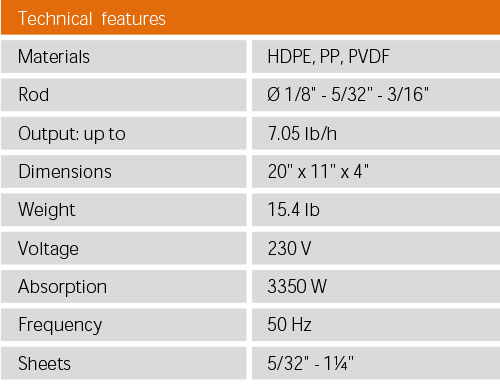 STARGUN R - SB 30